Careers at Fairway Lincoln
For over fifty years, Fairway Automotive Group has served the Upstate of South Carolina as Fairway Lincoln. Since 1966, we've been a family owned and operated automotive group. Over two hundred team members currently make up our three different vehicle brands at three different locations in Greenville, South Carolina.
Fairway Lincoln keeps Greenville moving. By working together as a team, we provide industry-leading customer service and build life-long loyalty with our guests. Our dedicated and committed team members drive our success, and we believe our employees are our greatest assets in producing our mission. We value sincerity, honesty, and respect. Our work-ethic fuels our ambitions to deliver customer satisfaction, and we do what we do everyday with enthusiasm. Our team has one common goal - to create genuine and excellent experiences that will last a lifetime.
Career Paths at Fairway Lincoln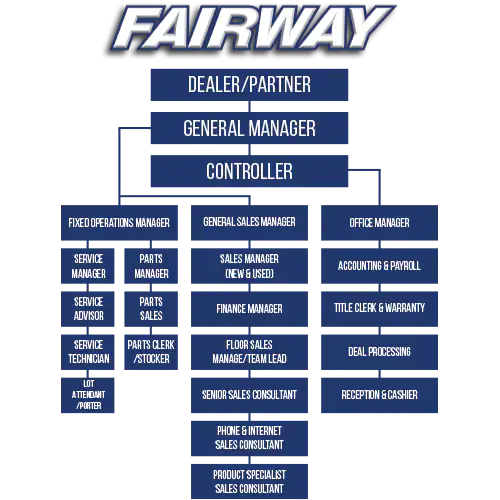 Testimonials
In 1980, I joined a group of people that soon would be as close as family. The support and opportunities within the company were more than I could have imagined; I started out as a file clerk and held several other positions before leading up to the position of Service Director. Fairway knows the importance of spending time with family and makes sure employees have great company benefits. Fairway was built on family values and knows the meaning of treating people the FAIRWAY!
Fred Sizemore
My career path at Fairway started in 1981 at age 17. I love working for Fairway because it's a family-owned and operated business, and you always feel like a part of the family. The McKissick family is wonderful to work for and are deeply rooted in the community where they are always giving back through various charities and organizations. This was my first and only full-time job, and I couldn't find myself ever working anywhere else. I encourage anyone to seek employment here!
Robbie Copeland
Contact us today!
* Indicates a required field